STARS Awards Honor Best of NC's Home Building Industry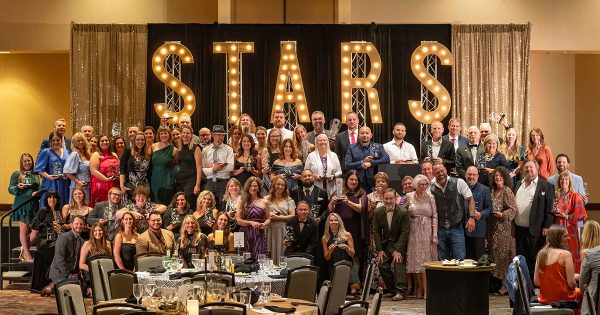 More Than 75 Awards Presented
The North Carolina Home Builders Association presented more than 75 prestigious STARS awards at the annual STARS Awards Gala on Tuesday, October 3, 2023 at the Embassy Suites by Hilton in Concord, NC. The STARS Awards program honors the achievements of home building industry professionals from across North Carolina.
Winners receive recognition in areas such as marketing and advertising, web design, sales/information center, landscape design, interior merchandising, architecture/floor plan, remodeling/renovation and special projects. Awards are also given to local home builders associations.
The top awards of the evening recognized the following winners:
Mark Martin of Sandmark Custom Homes was named the 2023 Distinguished Builder Member of the Year. Martin is a member of the Outer Banks HBA.
The 2023 Distinguished Associate Member of the Year Award went to Ken Bernardo. He is a member of the HBA of Greater Charlotte.
Holly Fraccaro, EO of the HBA of Durham, Orange and Chatham Counties, was recognized as the 2023 Executive Officer of the Year.
The 2023 New Executive Officer of the Year award recognized Gisela Lopez of the HBA of Winston-Salem.
The Builders Mutual Safety Program of the Year award recognized Young & McQueen as its 2023 recipient. Young & McQueen is a member of the Builders Association of the Blue Ridge Mountains.
You can download photos or purchase prints from the gallery. Join us in sharing our appreciation for photographer, and NCHBA member, Jordan Powers by tagging @jrdnpwrs when you share the photos on Instagram.